If you don't learn anything else from me, I hope you learn how to start living a life you love. But in order to do that, you need to love yourself first.
This week, we're going to talk about how to realize your talents, strengths and abilities, and find the self-love that you have hiding deep within yourself.
If you struggle with loving yourself and appreciating your talents, remember that sometimes one event, one person, or even just one question can make all the difference, and I'm going to share with you how it certainly did for me.
Hear about it in the video below.
I want to invite you to check out my Success Journey Video Series.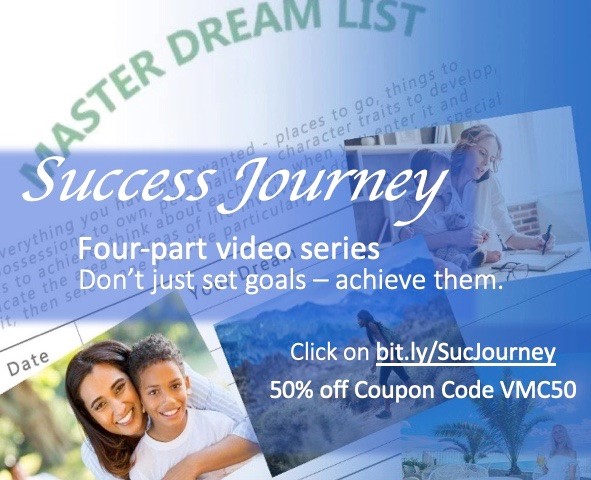 February is the month of love, so I hope that this is the month you fall in love with yourself.
Set Yourself Up for Success on your Success Journey
CLICK HERE – http://bit.ly/SucJourney
50% off Coupon Code VMC50
EXTRA TIPS AND ADVICE
Please like our Facebook page! We'll have all kinds of extras posted each week. I'd hate for you to miss it.
Special Offer for February
A lot of people get frustrated because they feel like they're wasting their time on projects or tasks that aren't helping them reach their goals. To solve that, I have a tool for you!
The first step to spending your time more productively is to find out what you're spending it on. Sign up below for the FREE Daily Time Analysis to help you look at your time, where you're spending it, and how you can save it for what's most important. Click the image below to download the forms. 
If you'd like extra tips and advice, don't forget to like our Facebook page! We'll have all kinds of extras being posted each week related to the topic of the video, and I'd hate for you to miss it.
All the best,
Lorna Rasmussen
What Did You Think of If You Want To Love Your Life, Love Yourself First?
Subscribe to my YouTube Channel so you don't miss out on new videos!
 Leave a Comment your thoughts and experiences..
 Share This Post to help others change their lives, just like I've changed mine.